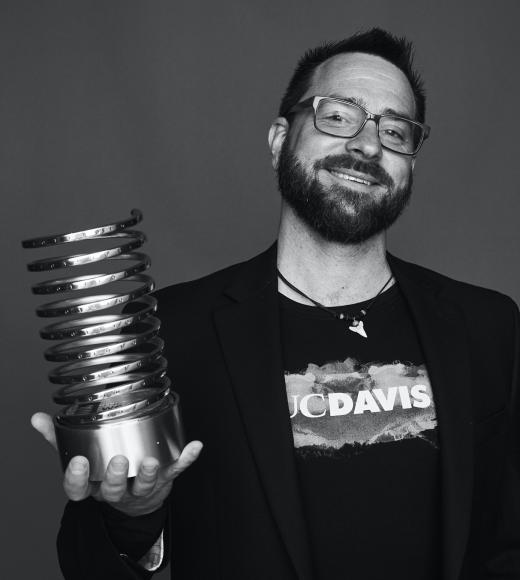 Position Title

Director of Web Communications
Web and Interactive Communications
Bio
Tristan loves volcanos, hurricanes, earthquakes, tornadoes, and floods. Raised in the fourth largest American city, he likes the hustle of a big population but is happiest with sandy feet and salty hair.
Born to a flight attendant and a traveling salesman, Tristan has lived in Europe and every North American time zone, including Hawaiian. He finds exploring new places, languages, and experiences key to life's enjoyment.
His love of the beach channeled him into the world of research oceanography where he studied waves and currents. He learned to code while flying underwater gliders and analyzing data from the sea. He then disappeared into the snowy Cascade mountains to measure the Earth's electromagnetic signals — the whale-song of our planet— and after high-fiving  Bigfoot, re-emerged to discover the iPhone and the glorious internet.
Sensing his creative side wilting with all the black-and-white research, Tristan moved to California and into the world of web design. A few late nights, one graphic design startup, and plenty of good mentors later, he sharpened his coding skills, honed a keen eye for design, and absorbed enough knowledge to dive deep into the world of web development.
Now, when he's not exploring new technology or waiting for a webpage to load, you can find Tristan walking campus and ordering iced tea from the CoHo. He's never far from the water or music, and he's probably barefoot right now.
Heroes
Amelia Earhart, Hakeem Olajuwon, Darth Vader and Ender Wiggin
Guilty pleasure
Dragons, dragons, dragons.
Little known fact
Tristan wrote his first program in Logo in 1984.
Most influential quote
"If you ever drop your keys into a river of molten lava, let 'em go, because, man, they're gone."  — Jack Handey
Tags